Including All People in Politics
In Switzerland many inhabitants are excluded from votings, most of whom are foreigners making up 25 % of the population. Votetandem.org enables a direct possibility to vote by meeting up with Swiss people who supply their vote for exchange. The platform is based on blockchain technology for a secure and independent operation.
How it works
The Vote Giver
The Vote Recipient
1a. Register a Vote
The Vote Giver registers their vote with a location, date, and time on the platform, making it available.
1b. Select a Vote
The Vote Recipient selects one of the listed votes on the platform, fixing the meeting.
2. Meeting
Both meet at the established location, discuss, and the Vote Giver fills out the ballot paper.
3. Confirmation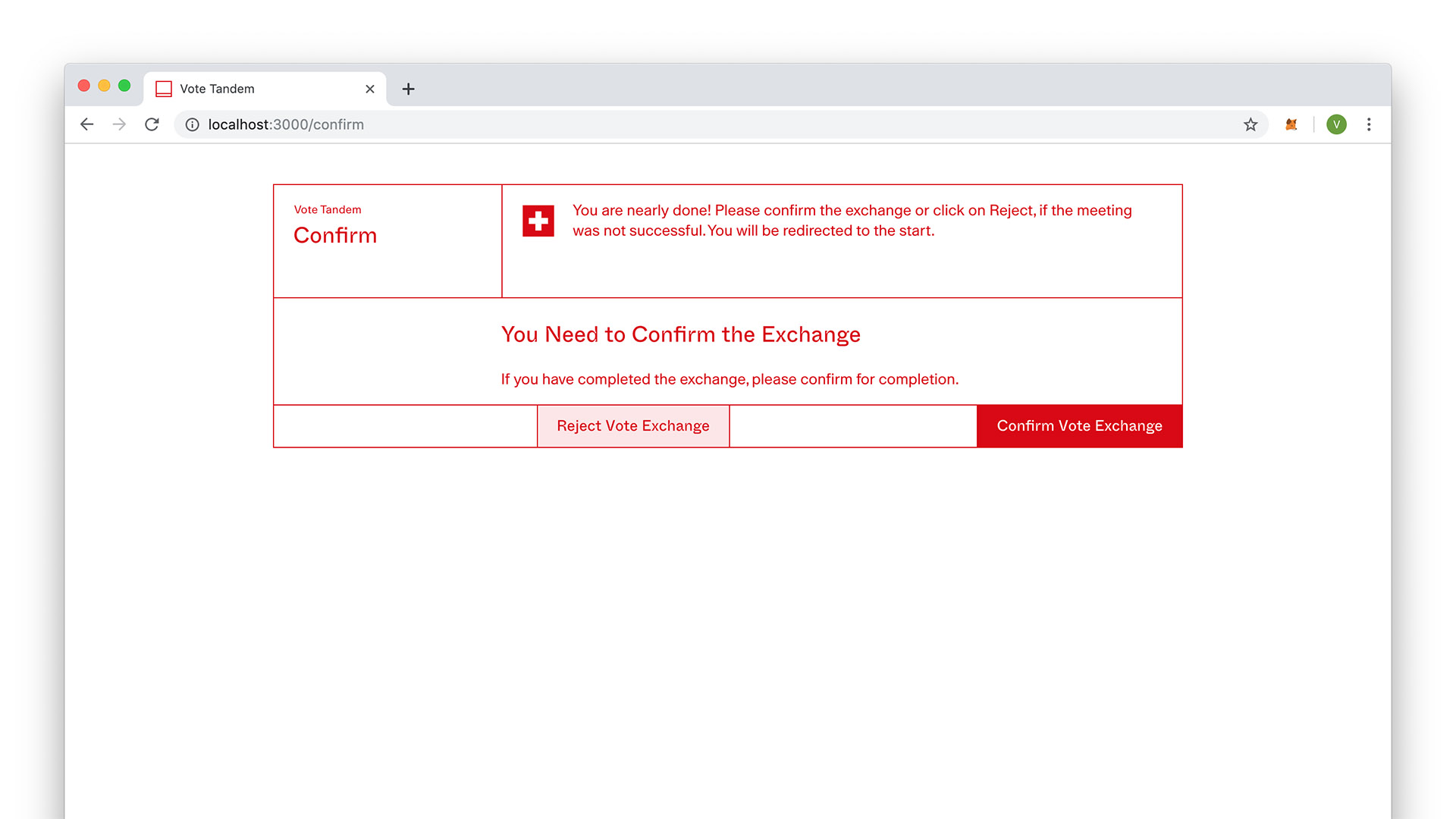 Both confirm on the platform that the vote was exchanged.
Prepare your Browser
Install the browser extension MetaMask.

Write down your seedphrase.

Switch to the Ropsten Network.

Get test money on faucet.metamask.io and wait a few minutes.
FAQ
Who should fill out the ballot paper?

The ballot paper has to be filled out by the Swiss Vote Giver.

Can I exchange votes several times?

No, the platform locks your account after the meeting, and only re-activates it four weeks before the next voting/election.

Who is actually willing to sign up?

The platform is for people who have the urge to have their voice heard, but also for anyone who is charitable or simply interested to supply their vote and help people in need.

What should I discuss during the meeting?

When the meeting is fixed, you can download a discussion guideline onto you digital calender. It's meant to help you during the meeting.

Why is the platform based on blockchain technology?

Blockchain technology allows votetandem.org to operate independantly. This means that no one can take it down or modify or control the source code and data. In addition, votetandem.org does not rely on private infrastructure, such as centralized servers.

Why do I need the browser extension MetaMask?

This browser extension allows you to interact and connect with the smart contract, which is the code of the platform running on the blockchain.

What is a seed phrase?

With your seed phrase you can log into votetandem.org with MetaMask from anywhere. Think of it as a password, keep it safe and write it on a piece of paper!

Why do I need to switch to the Ropsten Network?

This is a network, on which you do not need to pay with actual money, because everytime you interact with the smart contract you pay around CHF 0.05.

What is test money and why do I need it?

This is money you can spend on the test network. It's free and it enables you to interact with votetandem.org on the blockchain.